A chilly day on my trails at home with my most reliable ski partner.

---
Posts: 2109
Joined: Wed Feb 11, 2015 11:25 am
Location: New Hampshire
Ski style: Bumps, trees, steeps and long woodsy XC tours
Favorite Skis: DH: Voile V6, Altai KOMs, XCD: Asnes FT62, XC: Nansen, E99, Bonna 1800
Favorite boots: T2Eco, T4, Rossignol BCX10
Occupation: Retro Rager-grouch. Flailmeister. E99 Nerd
---
Woodserson

wrote:

↑

Sun Feb 07, 2021 9:59 pm

fixed it for you!

What a great day to be out! Looks like fantastic kick & glide conditions
Haha thanks for the fix! You are right, my amundsens are a reliable partner.
Nice kick and glide, but slow at -25 celcius
---
Posts: 143
Joined: Fri Oct 27, 2017 2:14 am
Location: Tampere, Finland
Ski style: XCD touring on small hills. Heavy tele at resort
Favorite Skis: Åsnes Rabb 68
Favorite boots: Alico Ski March
Occupation: Hydraulics engineer
Not a picture, but couldn't find the video thread, so posting this here.
One small descent on a local hill yesterday night. The snow was not very good, it was really chopped up, which made for quite challenging conditions. I'm glad I had my plastic Excursion boots instead of the Ski March leathers I most often use.
https://youtu.be/7hRnOTMEIDg
---
Posts: 47
Joined: Tue Dec 10, 2019 11:09 pm
Location: VT
Just checking out a local drainage, working on my ski limbo skills, and generally wishing for wider skis

---
Posts: 1683
Joined: Sat Jan 11, 2014 4:36 pm
I just got about 800' of this in the nicest powder you will find anywhere. I'll be going out for round two in about an hour when my wife gets off work.
---
Posts: 237
Joined: Thu Oct 22, 2020 6:42 pm
Location: Wasatch, Utah
Ski style: Old dog, new school
Favorite Skis: Blizzard Rustler 10
Favorite boots: Tx Pro
Occupation: Retired, unemployable
---
Posts: 1683
Joined: Sat Jan 11, 2014 4:36 pm
Thanks, it took 17 of them to get my 800'.
---
Posts: 149
Joined: Sat Jan 19, 2019 8:53 am
Location: North
Ski style: Bad
Favorite Skis: I am a circumpolar mammal
Favorite boots: Hooves
Occupation: Eating lichen, walking about
This morning about 11:30.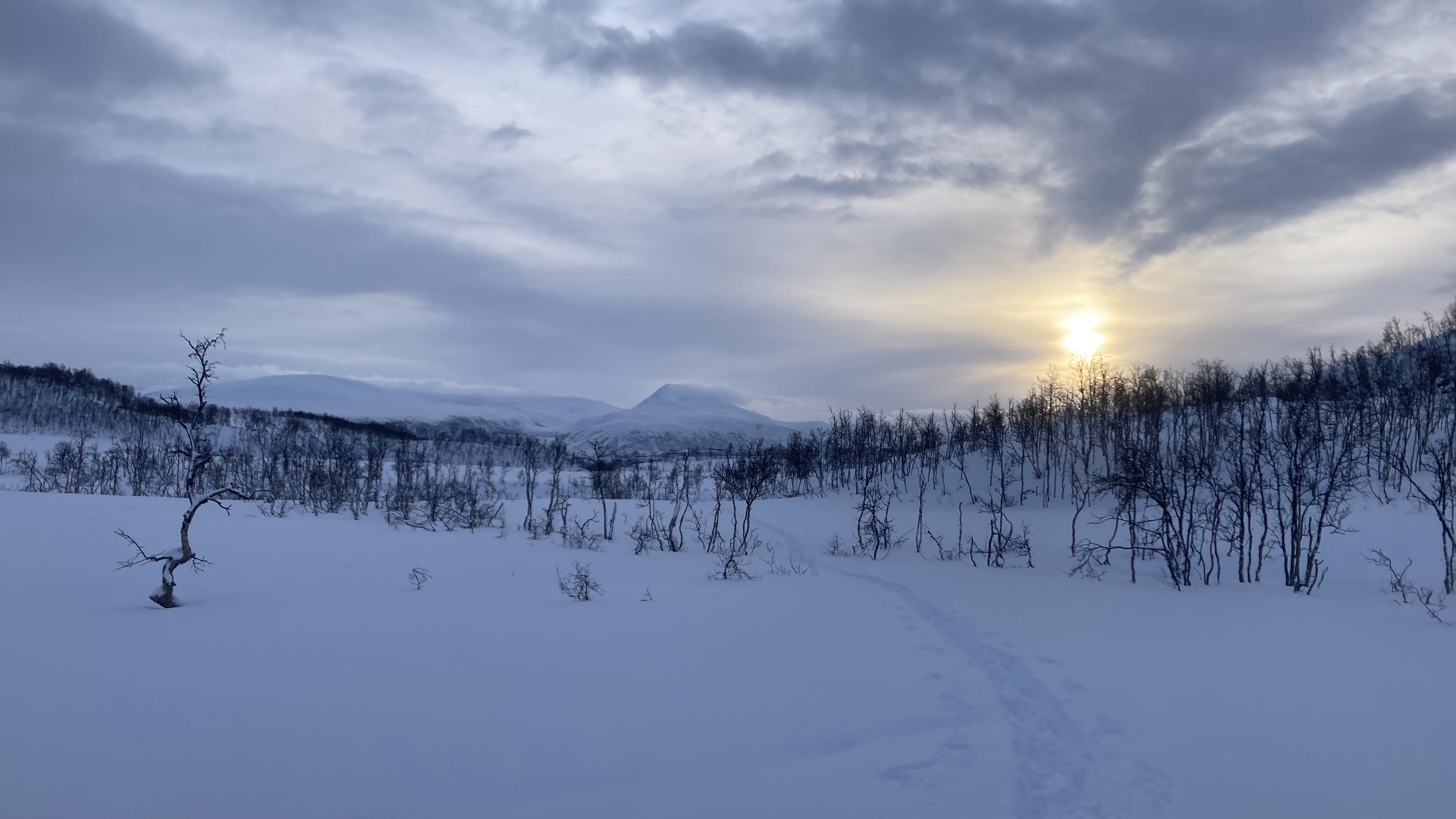 ---
Posts: 1188
Joined: Fri Feb 19, 2016 9:06 pm
Location: Oakland County, MI
Ski style: All my own, and age doesn't help
Favorite Skis: Gamme 54, Falketind 62, I hope to add a third soon
Favorite boots: Alpina Alaska, Alico Ski March
Occupation: Construction Manager
11:30 AM??? Between you Mr Musk Ox and
@Verskis
, I am starting to appreciate living at 42 40 N. At least at 11:30 AM the sun would bear some semblance of being at an apex, a far south apex, but an apex. Your sun looks like maybe 9 AM here.
---