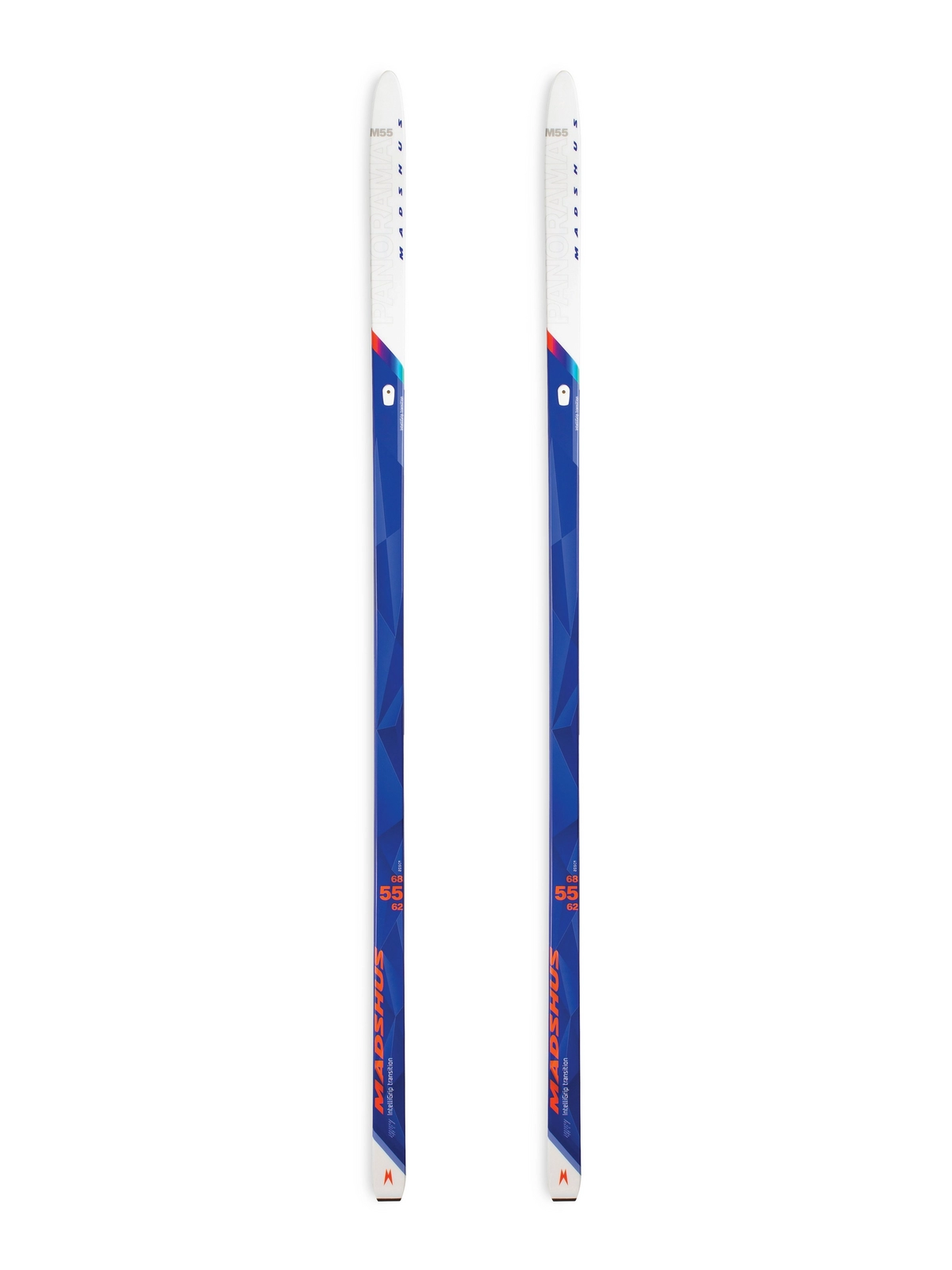 https://madshus.com/en-us/p/panorama-m5 ... ransition
This will be quick, as I've only returned from my first trip on these skis. My intent in purchasing these is general XCd touring, with a focus on stability, speed, and versatility on both tracked and untracked Forest Service roads in Idaho, Oregon, Washington, and Montana. Already having both a dedicated track ski (Madshus Terrasonic Intelligrip in 210cm (80-95kg)) and a wider off-track mixed touring ski (Fischer Excursion 88s in 189cm), the collective wisdom here pointed me toward a full-length E99-class ski to fill the gap. It appears almost impossible to purchase a waxable E99 in the US at the moment, however. This M55, a distant descendant of Madshus' famed Glittertind, seemed to be a good alternative.
Unfortunately, I lack the familiarity so many of you have with various ski models to provide a slew of useful first-hand comparisons. Of the skis I have available to me at the moment, none is in the same class. But they're what I have as references, so here we go.
Key Specs:
Sidecut: 68-55-62
Length: 205 cm (available in 180, 190, 195, and 205)
Edges: Full-length steel
Base: Sintered, fully waxable (with port and recess for Transition skin)
Key Info:
Me: 6'5" (196 cm) and 170 pounds (77 kg).
Mounted with Rottefella NNN-BC Auto bindings, with pin at the balance point.
Glide zones prepped with two hot applications of Swix BP88; glide waxed with SkiGo XC Orange (+1C to -5C)
Grip zone unprepped; tested with Intelligrip Transition skins in place (untrimmed)
Today's test conditions: 32 to 34F (0 to 1.1C) air temps, no precip, and packed powder that was beginning to refreeze. Groomed tracks and packed trails with patchy debris from overhead trees.
Initial Thoughts:
Overall, I'm impressed. Conditions were poor, and while I generally dislike tours at or above freezing, these skis handled it better than I've experienced with other setups. My wife, on rented Madshus BC55s with waxless bases, fared far worse.
Kick was surprisingly good, particularly given the difficult conditions. The skins wetted through but continued to provide solid traction. Didn't require much more focus wrt technique than my Excursion 88s, and quite a bit easier than my Terrasonics.
Climbing ability was good and noticeably better than what I was getting earlier in the week from my 88s (Offtrack Crown) in colder, drier conditions.
Glide was better than I anticipated, despite the misjudged temp range. I imagine that a dialed-in glide wax and proper kick wax job (in lieu of skins) would improve things further still.
Downhill speed was impacted by the skins, but perhaps no more so than a waxless pattern. Removing them altogether would make the most sense, but see below. Downhill control was ok considering their dimensions but wanting compared to my shorter, wider, and shapelier 88s.
I'm looking forward to testing them out in a wider range of conditions, but definitely promising so far.
One area of concern: The peg used to secure the leading end of the skins fits extremely tightly in the recessed port. Removal is difficult, and any excessive stress on the point where the peg protrudes from the skin appears likely to result in tearout. My first attempt significantly weakened that junction. My second attempt, despite great care and on the other ski, caused it to fail completely. This area of the skin, and perhaps the recessed fitting on the ski as well, needs additional thought and refinement (or a complete redesign) by Madshus. I used cyanoacrylate glue to reconnect the peg, which held during today's tour. As a workaround, one might consider drilling out the recessed port to ¼" (or sanding down the peg slightly) to relieve that fitting.