After 20+ years of knowing about, and thinking about this trail, my ski partner and I finally did it!
(sort of - more on that later...)
The Jackrabbit is a "managed trail system" that winds its way from near the town of Keene, to and through Lake Placid, and then up to Saranac Lake. There is another set of snowmobile/ski trails that connects the end of the Jackrabbit in Saranac up to Paul Smiths.
We planned our trip to ski the Keene>>Lake Placid (~14miles) on Day 01 (Saturday), stay the night in Lake Placid, and ski the remaining portion from Lake Placid>>Saranac Lake (~8.5 miles) or potentially up to Paul Smiths (extra ~15miles), on Day02 (Sunday).
My equipment:
Fischer Transnordic 205cm (ski)
Rottefella Manual NNN-BC (binding)
Fischer BCX Grand Tour (boot)
Swix Mountain Tourer 145cm (poles)
Mountainsmith Tour Small Lumbar (pack)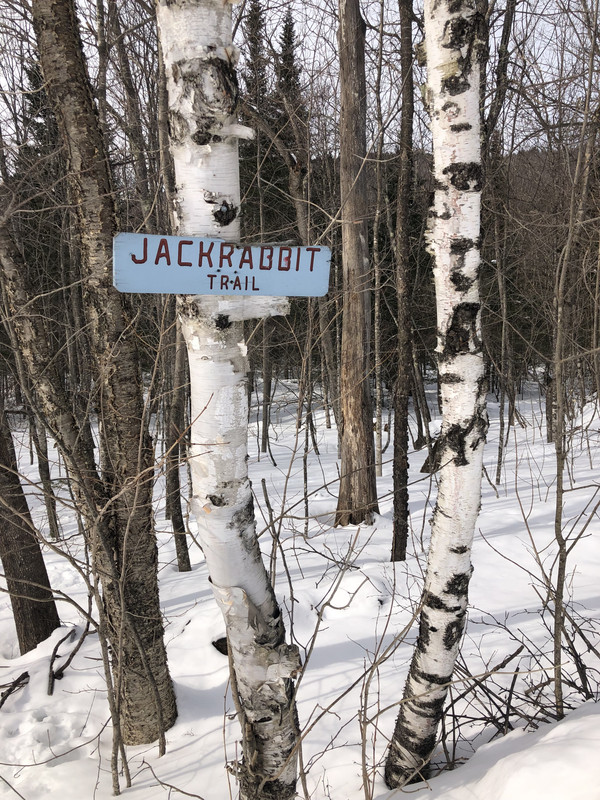 Trailhead at the Adirondack Rock & River Guide Parking lot in Keene
Day 01
The day was absolutely *stellar*. Temps just below freezing. Great 12"+ snowpack. Fast, tracked trails. No wind to speak of.
The section from Keene to Lake Placid is a nice, fairly wide (6'-8') managed and marked trail, that started out on a long, sustained climb. Nothing too steep though (<10%), and no skins required.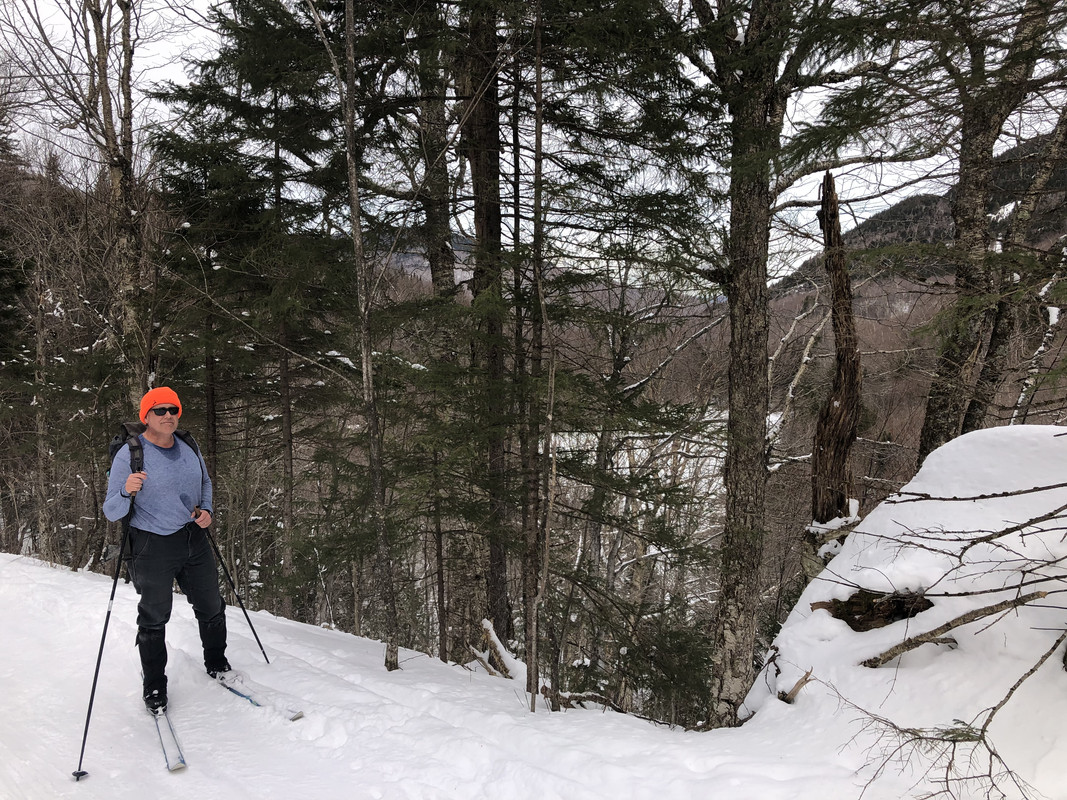 My ski partner taking a break during the climb
Once the elevation was gained at the top of the climb, the trail settled into a long, flat frozen marsh, with some awesome sheer rock/ice cliffs to the south (with quite a lot of ice climbers that day)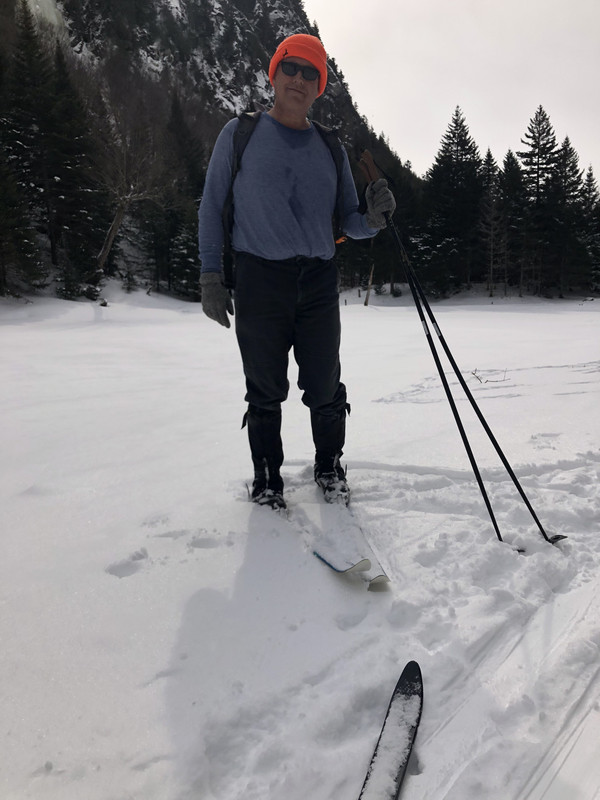 my ski partner in the frozen marsh section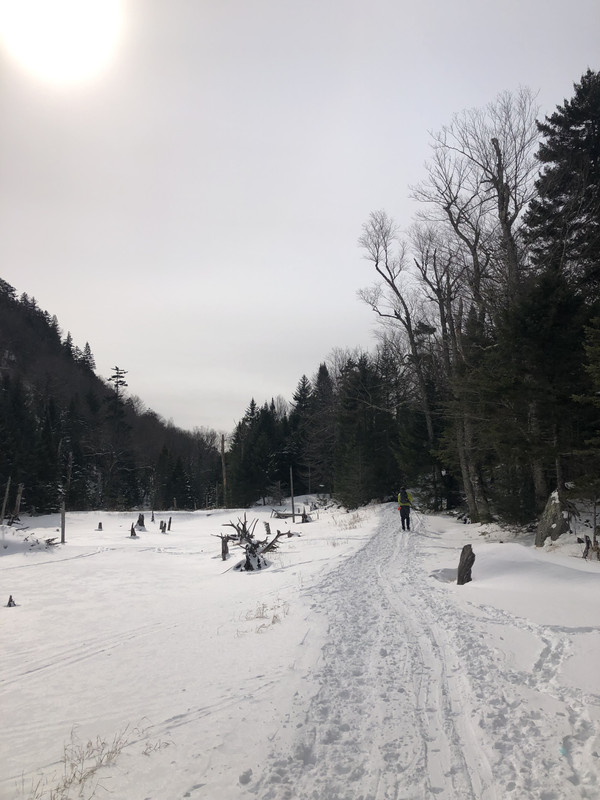 my ski partner in the frozen marsh section
From there it was woodland trail for a good long time before arriving at the trailhead at the top of Mountain Road.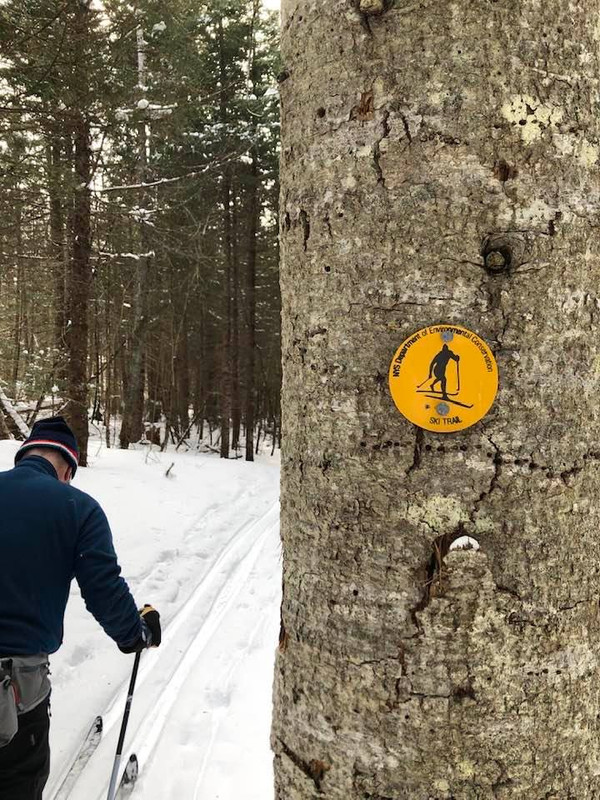 Nicely-marked trails along the Jackrabbit
There was enough snow around that we carefully skiied down Mountain Road in the shoulder, avoiding thin/sanded areas.
At the base of mountain Road, we were back in the woods, leading to the Cascade Ski Center. This short maybe 2 mile section was really nice, and seems to be less-traveled. The snow was less packed/consolidated, and we really enjoyed this section.
GREAT snow between Mountain Rd/Route 73 and the Cascade Center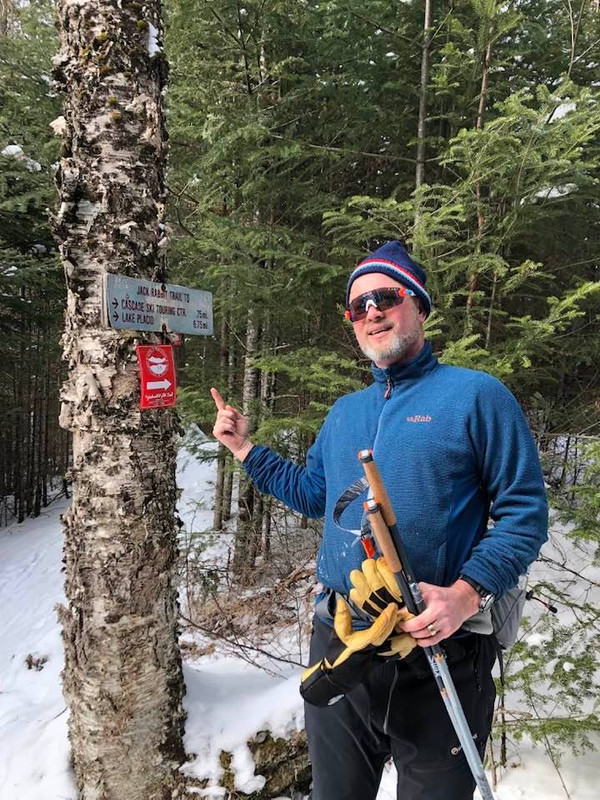 Me, arriving at the Jackrabbit/Cascade juncture
Arriving at Cascade, we skiied the outer perimeter, toward the lodge, as required - and then made a pit-stop at the Lodge. I was dismayed to learn that the Cascade center has been recently sold to the Adirondack Mountain Club, and in the process of shuttering down, the restaurant/pub portion of the Lodge had been closed. DARN! Boy, was I looking forward to a few pints and a basket of fries...<sigh> I have a lot of nostalgia for this place, first visited there with my Wife to ski "groomed trails" back in 2003 or so. So, I bought myself a logo baseball cap and a sticker for my snowboard for posterity. Heading back out, we continued around the perimeter trail across the western boundary and linked-up with the Jackrabbit again.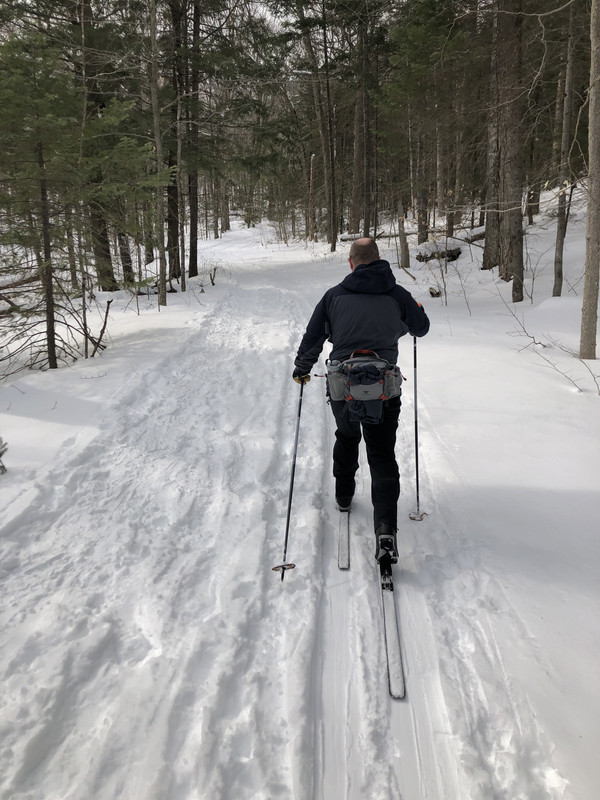 Me, skiing the perimeter of Cascade Ski Center
From there it was more woodland trails, then a walk across Route 73, and onto the Craig Wood Golf Course, then more woods, to a seasonal road (Birdsong rd) leading down to route 21. From here a walk then ski along the shoulder of RT. 21 by a horse paddock fence, to a skinny bridge, and back into the woods.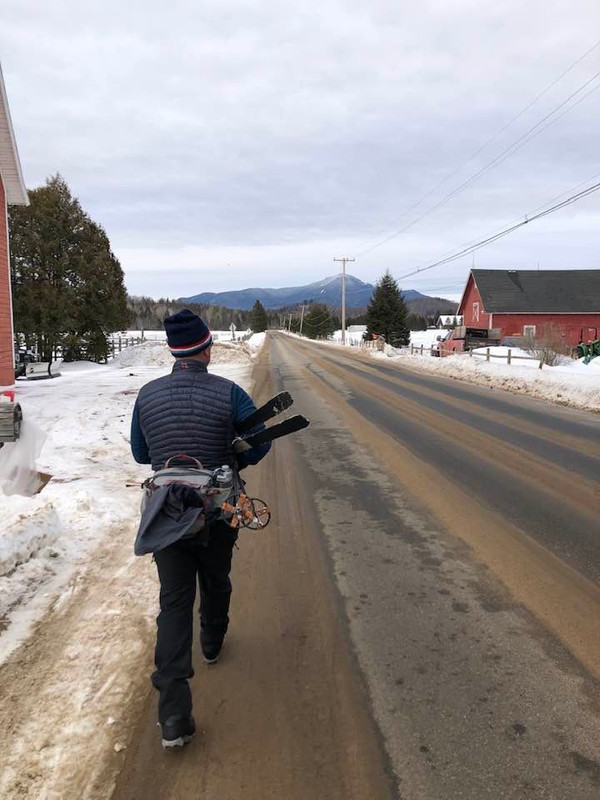 Me, walking a bit along Rt.21 to get to "skiiable road shoulder"
Me, gingerly-crossing the "skinny bridge"
Eventually, another golf course, and onward to the Lake Placid Club on Morningside Drive at the edge of the Town of Lake Placid.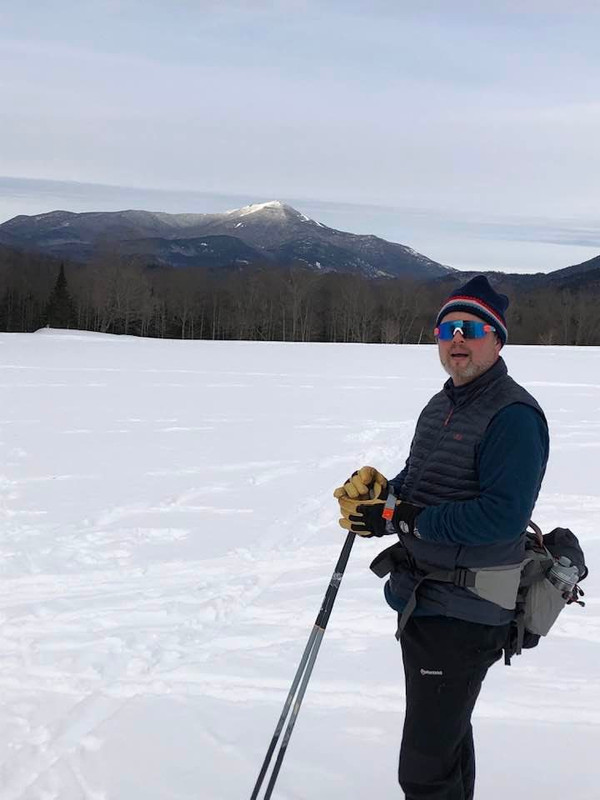 Me, on the golf course. great views of Mt. Marcy and Whiteface
From here, things got pretty confusing, with respect to navigating lake Placid on-foot, and finding where the ski trail picks back up. We basically walked from the Lake Placid Club, down Morningside Drive to Main St., then Main St. to Olympic Dr. which heads up a steep hill to the Crowne Plaza Hotel. Once up on top, we searched for ski trails around the hotel, but never found any. So then we made our was back down the hill, to get to Westvalley Road where the ski trail picks back up.
From Westvalley, it was a short ski to Algonquin Drive, where we skiied the road shoulder again to the end of this section of the Jackrabbit at Route 86 near the Dak Shack Restaurant.
We stayed the night at the Quality Inn right next door to the Dak Shack.
That evening (after a nice hot shower!) we headed over to the Dak Shack for dinner. What a neat little place! Nice variety of food and drink, pleasant wait-staff and bartenders, and a nice mix of locals and ski tourists inside. The Town of Lake placid was overrun with some sort of youth hockey tournament that weekend, and the 'Shack seems to be just far enough away from the "main drag" downtown, to be safe from all of the "hockey moms".
One of the bartenders at the 'Shack was incredulous that we skiied the Keene>>>Lake Placid section "backwards"; but it really wasn't that bad. Sure, there was more overall climb than descent, but no section was all that steep. Only had to "duck walk" just a few very short steep sections.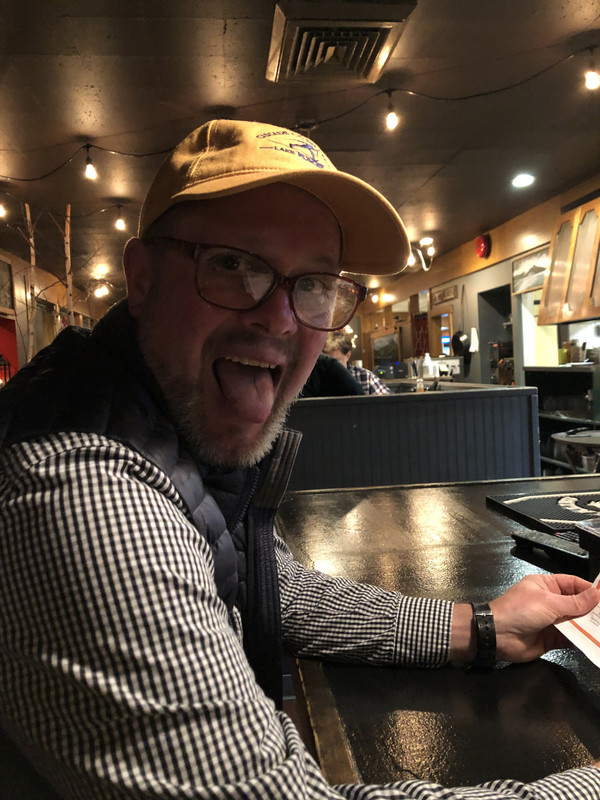 Me, borrowing the bartender's reader-glasses so I could read the menu while sporting my new Cascade logo hat
Day 02
The next day (Sunday) it started to rain (pretty hard) at about 6am, and continued to about 10am. We couldn't hang around and wait for the weather to clear, because we wanted to get back home (southern tier of NY - 5hr drive) at a reasonable hour, so we decided to bag our plans and head home. On the way, we stopped in the Town of Saranac Lake for some breakfast (DJ's Rustic Restaurant). While we were having breakfast, the weather started to clear... Driving west on Route 3 (towards Watertown) we stopped for some gas/drinks and decided we couldn't let this "spring ski" day go, without another outing. After the rain passed the skies cleared, sun came out, and temps rose to about 55F. So we searched Google for ski trails along the way home on Route 3 and settled upon some NY State Forest managed (ski only) trails at "Cranberry Lake 50". We accessed the trails at the "Peavine Swamp Trailhead", which is marked on Rt.3.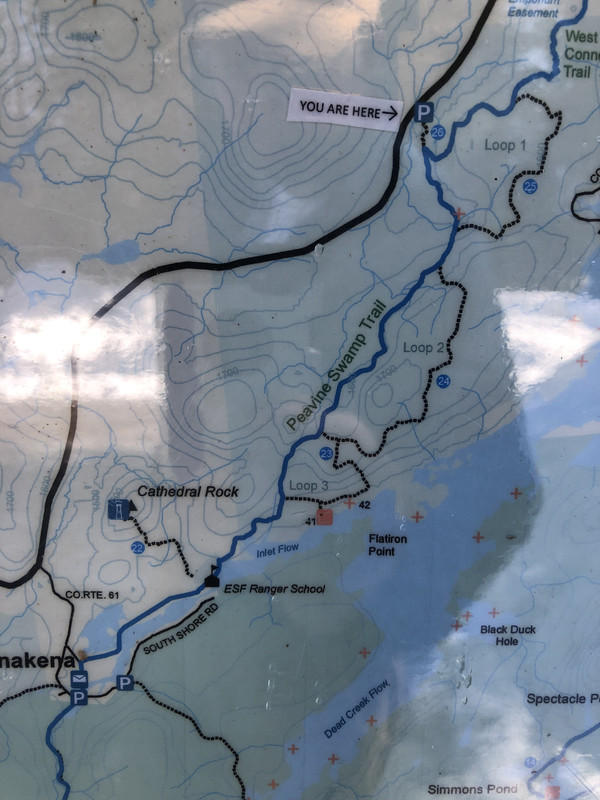 Pic of Cranberry Lake Trail Map
At Cranberry, we skiied another 5-6miles, and had to break trail for about 2/3 of it. It was great fun, and nordic skiing in a t-shirt feels nice, but pretty weird. ;-P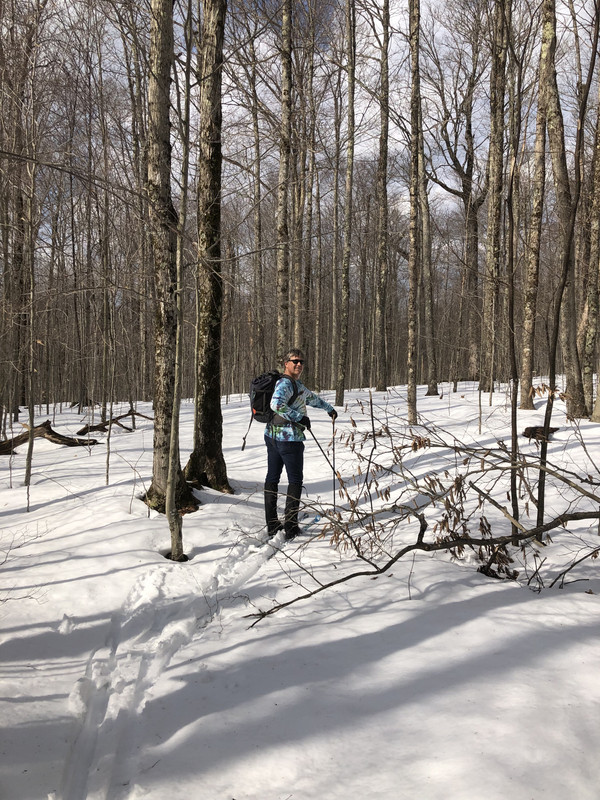 My ski partner, breaking-trail and enjoying the Spring conditions
Overall a really great trip, and we plan to make this an annual thing, for sure.
Highly-recommended!
Trip Notes:
0. Trail Features
the section of trail from Keene to Lake Placid is generally pretty wide (8'-10') consolidated and tracked snow. No steeps were too unruly. Even if you aren't a great "turner", they are all manageable with a controlled snow plow. Mostly woodland trail, but also sections that cover: frozen marshes, golf courses, dirt road shoulders, a few bridges, and the Cascade Nordic Center. Any sections where one must walk are typically less than 1/2 mile. The trail is marked very well.
1. Reverse Direction
For a number of reasons, we decided to ski it in the opposite direction (Keene to Lake Placid) most people do. (all directions to be found online are setup for west to east travel). Although, according to Strava our elevation gain was about 1,500ft, all climbs were pretty relaxed. No skins needed.
2. Double Camber
This trail (at least the section we skiied) is *perfect* for a double-cambered medium or even narrow width metal edge ski. E99/TN66/Gamme. Unless there is fresh, un-tracked powder - then a wider ski better suited for deep snow might be in order.
3. Cascade Pub Closed
I was *so* looking forward to a few pints and a basket of fries at the Cascade Center Pub, only to discover it has recently been closed and the center has been sold (to the Adirondack Mountain Club, I believe?) The pro shop and retail store are still open, though.
4. Lake Placid Connector
The connector that runs through Lake Placid is *super* confusing. And we were traveling in reverse direction from the descriptions found online to make it even harder. Honestly, if I do it again, I would just walk from the LP Club, all the way to where the ski trail resumes off of Westvalley Road. Probably walk down Cummings Road to get there from main st (the road that boarders the north edge of the outdoor speed skate oval) and avoid the Crowne Plaza alltogether. (steep hill up, steep hill down)
5. Dak Shack
The Dak Shack is a really cool place to get food and drink and is *just* far away from the main st drag to avoid being overrun with hockey moms.
Its the next best thing to the Carribean Cowboy which has sadly closed for good (and used to be across the street)